iZap Ultimate Zapper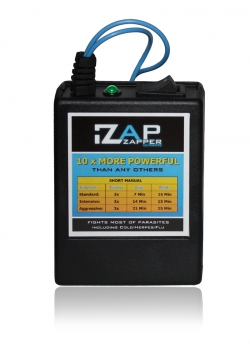 iZap Zapper Ultimate - Front view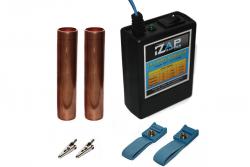 What Zapper includes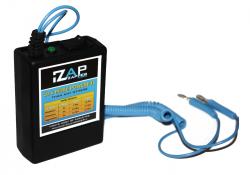 iZap Zapper Ultimate - with wires
The most powerful Hulda Clark Parasite Zapper on the market, iZap zapper helps you in the keep your body healthy.
The iZap zapper was designed based on an article by Dr Hulda Clark (USA). However people where trying to produce similar devices ages ago, and some of them where successfully used and are still in use in some clinics (redesigned of course).
You can just take a look of some of them in the internet museum here:
http://www.sparkmuseum.com/QUACK.HTM

Dr. Clark designed it in a new way using microelectronics, and made good advertising company for them. However what she announced in her book was a simple zapper with an average output power- nothing extraordinary.

In early 2005 I found that Dr Hulda zapper was really working, however it was not as effective as it could have been. So from 2005 till 2006 I gathered with two professors working at local Institute and we started doing our experiments to see how the zapper could have been improved. Basic facts of what we've found and how we where improving zapper are outlined in iZap Explained section.

By the end of 2006 we had a new product developed based on our experiments. Our intentions were to help people get rid of different diseases and parasites, as well as from colds and flues. We now have this device available for you and we would be glad if you could provide a feedback for us.

The iZap zapper was developed to help you fight different kind of diseases. However we cannot claim it cures all diseases just because there are always people with individual body properties (who, for example, have a very high electrical resistance - when body does not allow electric flow to pass).

The results of our experiments shows that most of people who used zapper for more than 3 months at least two times a week have no cold (herpes) outcomes or have cured different parasites in their body. Their overall health and mood has improved too. So this is the type of device you could try for curing your diseases.

More information on Zapper could be found in section iZap Explained. A good approach and information source is a book of Dr. Hulda Clark "Cure for all diseases". The RRP price is 20GBP for hard edition, however you can get e-book for free from our Manuals section.
Warning! Do not use any Zapper type product if you are wearing a pacemaker or if you are pregnant.
Notice: The iZap Zapper Ultimate is offered for experimental purposes only, and should only be used as such. These products are not intended to diagnose, treat, cure or prevent any disease, disorder, pain, injury, deformity, or physical or mental condition.
MEMBERS AREA
Testimonials
The prison has no walls. It has only lines. Lines that mark the ground around you. Inside the lines are your old ideas. Outside are new ideas that invite you to step over and escape your prison. Dare to try these new ideas and your illness promises to recede. In a few weeks it can be gone.
Hilda Clark - The cure for all diseases